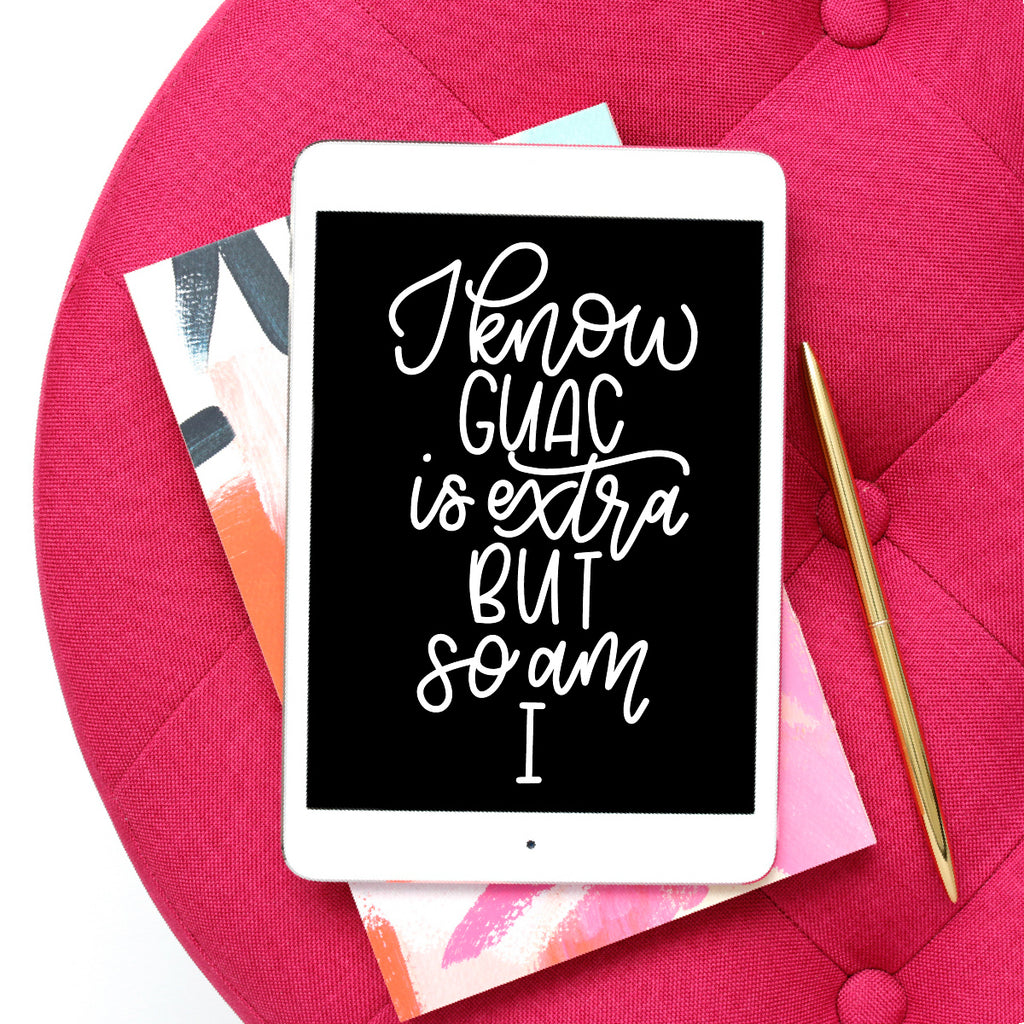 My iPad Details
I purchased my  12.9" iPad Pro (128 GB storage) in March 2016 along with the Apple Pencil. We purchased the smaller 9.7" iPad Pro (64 GB storage) about 2 years later and I've compared the two and still prefer my larger 12.9" iPad Pro.
My opinion is that the extra screen real estate you gain with the 12.9" is totally worth it but they are both fantastic devices. Now, there is a new generation of iPads out that are compatible with the Apple Pencil. Full disclosure, I have not lettered on these yet and so I can't give my opinion on them yet BUT I can tell you that I am so happy with my iPad Pro that I don't plan to replace it in the near future.
A quick note that this article contains affiliate links. This just means that if you click through and end up purchasing, I get a small kickback so I can keep writing articles like this for you. It doesn't cost you one thing!

Apple Pencil
This first accessory might be obvious to most of y'all but this is my #1 accessory. There are other styluses that are compatible with the iPad Pro but none of them match the sensitivity and accuracy of the Apple Pencil. With a $90 price tag, it's not inexpensive but my thoughts are that if you spent the $$$$ on your iPad Pro, you should spend the $90 to complete the pair.
I wanted to use this opportunity to talk about the Apple Pencil Covers out there. Click here to check out the covers I recommend. I have fellow lettering friends who LOVE them. I love how pretty they look and you can find them in a  variety of colors and patterns. Some come with an attachment to hold the pencil cap so you can't lose it (which I've totally done and it's frustrating). That being said, I do not have a pencil cover. For some reason I just LOVE the look of the blank pencil and don't find that I need the extra grip. I've linked my favorite covers below just in case you want to give them a try!
Matte screen cover
This. Is. A. Game changer. When I first got my iPad Pro and pulled it out to start lettering, I was SO sad. My pencil slid around on the screen and my lettering was so shaky compared to lettering with a brush and paper. The matte screen protector helps create a soft, slightly textured surface, just like my favorite lettering paper. Plus, it literally prevents fingerprints on the screen making it look so much cleaner. Best part, they are really inexpensive! Find my favorite matter screen covers over here.
Procreate App
The Procreate App is, hands down, my favorite app for lettering. There are some solid brushes built into the app for you to get started. I quickly became addicted to creating my own custom brushes that mimicked my favorite traditional brush pens and nibs. There are quite a few other talented designers who've made their brushes available for purchase as well on places like creativemarket.com and Etsy. My favorite brushes can be found in my brush kit here. I also don't want you to miss out of the FREE brush I created for you. One last quick tip to get a brush to work better for you on your iPad and to decrease shakiness is to turn the Streamline function up to or close to 100%. You can find this function under the brush settings at the top right of your app then go to Stroke settings.
That's it! What you think? See something missing from the list that I should check out? Let me know in the comments below!


Pin Me!