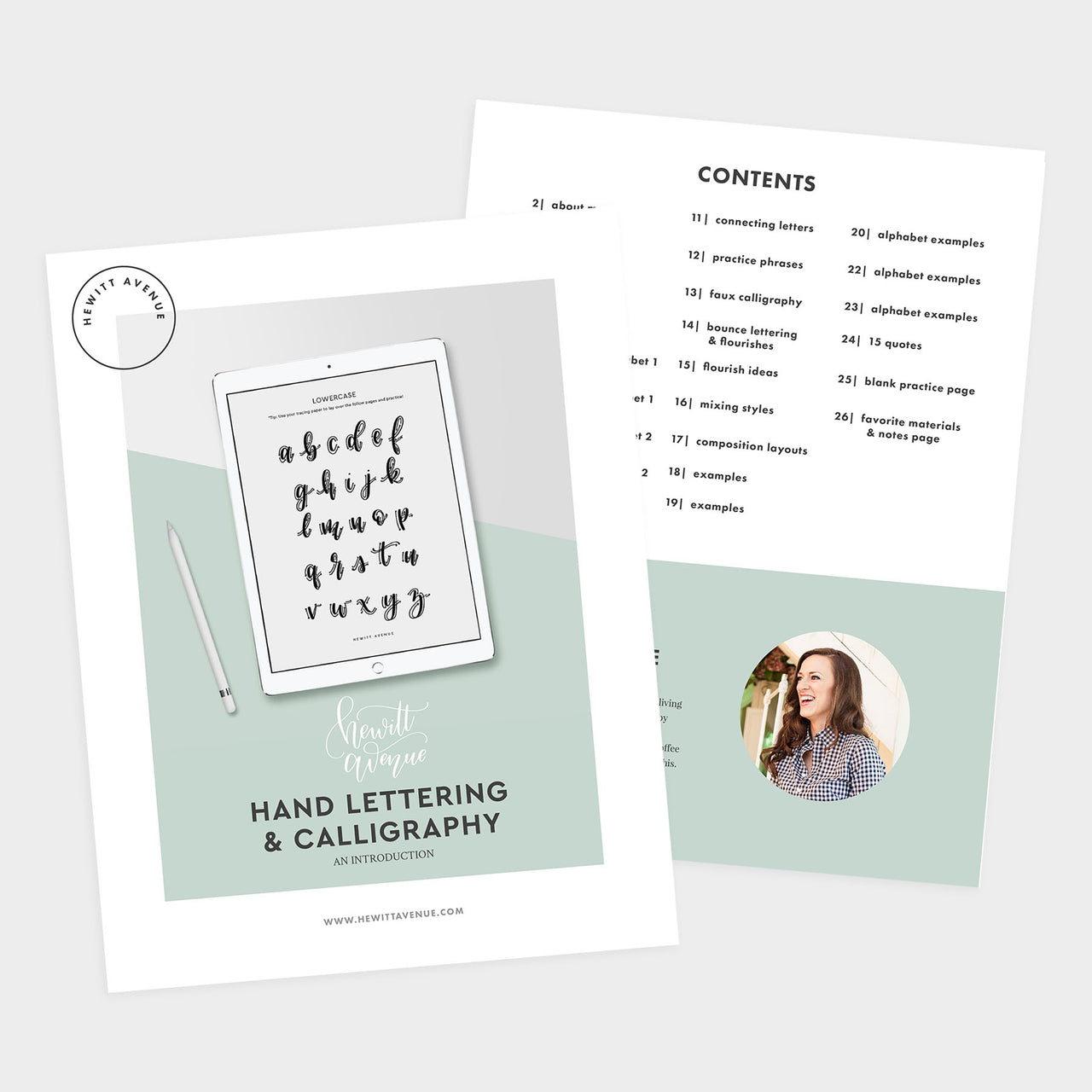 Yay! Seriously, I am so glad you are here and even more excited that you've discovered calligraphy and hand lettering. Now what? If there's one piece of advice I can offer, it's this:
Consistency is key.
If you want to learn calligraphy and hand lettering, you've found the right place. But this 26-page workbook is just where it starts. We can't wait to be a part of your journey and encourage you along the way. This book is meant for someone relatively new to lettering or someone who'd like the basic foundations of calligraphy with the brush pen. 

Recommended brushes: Tombow Fudenosuke and/or Tombow Dual Brush Markers. Do you letter on the iPad? This guide can absolutely be used on the iPad! It's meant to be used with the Procreate App and the Apple Pencil. 

Included: 
PDF (digital) workbook with 26 pages total
JPEG files perfect for the use on the iPad. The page size is 8.5x11.
Here's what you'll learn:
- Type basics
- Letter structure
- Connecting letters
- Faux calligraphy
- Bounce lettering
- Flourishes
- Mixing styles
- Composition layouts and examples
- Practice alphabets: 4 calligraphy alphabets, 6 serif and sans serif alphabets
- Practice prompts
- Favorite materials


Questions? Please send me a message before you buy! I am more than happy to help. Due to the digital nature of the product, once it has been downloaded, there are no refunds available. Feel free to reach out and ask questions!

For behind the scenes details and sales, follow @hewittavenue on Instagram: #hewittavenuecalligraphy and #obsessedwithletters so we can cheer each other on!