Lowercase Brush Lettering Guide, iPad Lettering, Procreate App, Learn Calligraphy
Hewitt Avenue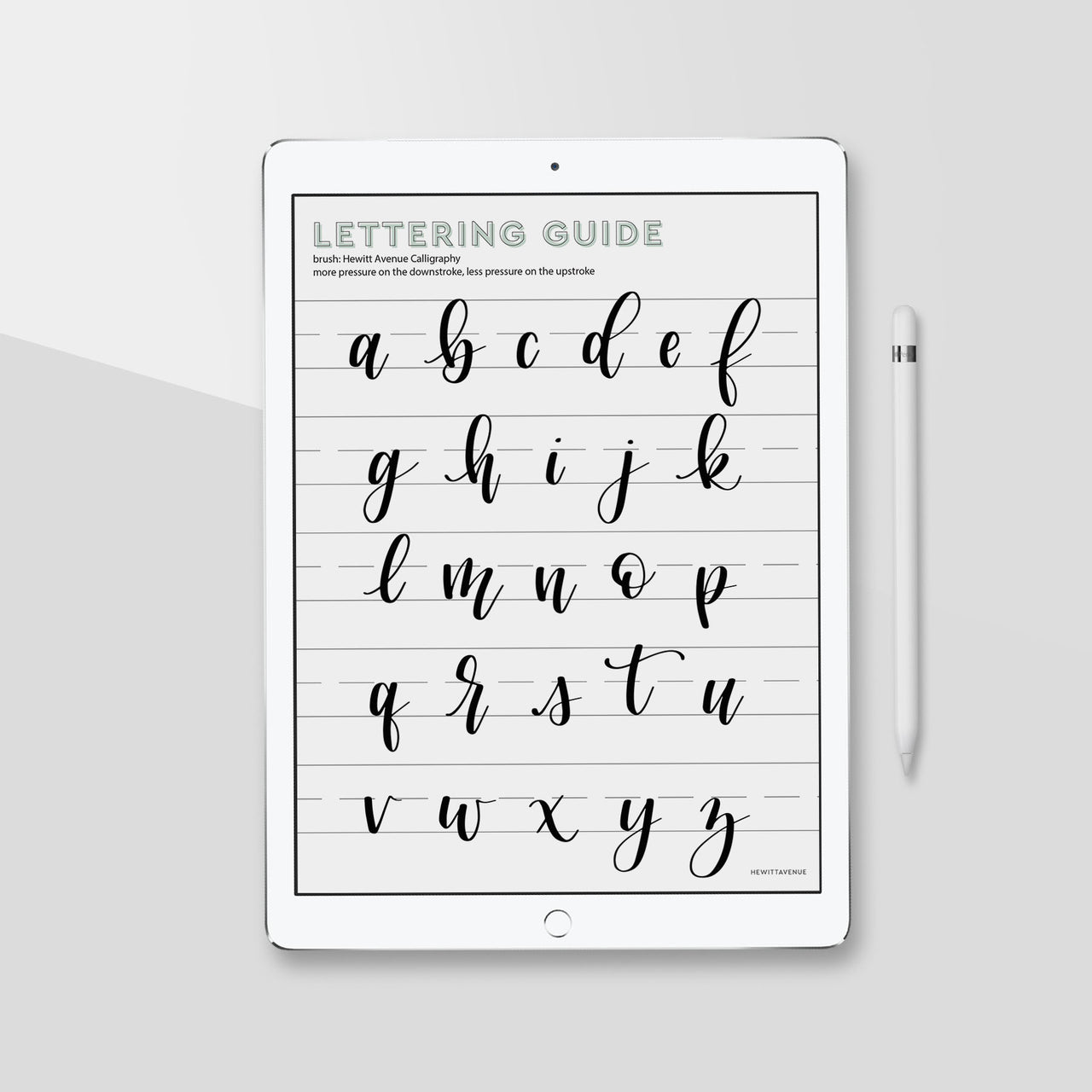 eBook (PDF, JPEG), The Hewitt Avenue Lettering Guide - Modern Calligraphy Lowercase
Please read all the way through before purchasing. Happy lettering, my friends!
This eBook lettering guide can be imported to the Procreate App for iPad Pro lettering practice or printed out at home. The attached download can be downloaded within minutes of purchase.
This eBook lettering guide features: the basics of LOWERCASE letters including arrows on how to form your letters focusing on one letter at a time, the entire alphabet, 10 of the most common double letters (so tricky!), 5 full words to practice lettering, flourish practice demonstrating 5 separate flourishes on 5 separate letters (t, b, r, g, o), PLUS one blank lettering guide with lines. 
--
Included you get:
18 Pages Total
1 Instructions/Installation Guide
1 Cover Page
1 Full Alphabet in Black
1 Full Alphabet in Mint (perfect for lettering over)
5 Pages with one lowercase letter per line
1 Practice Words Page in Black (my favorite words to letter!)
1 Practice Words Page in Mint (perfect for lettering over)
1 Double Letters Page in Black
1 Double Letters Page in Mint
1 Flourish Guide in Black
1 Flourish Guide in Mint
1 Blank Lettering Guide
--
Requirements for iPad Lettering:
Apple iPad with OS 10/11 Apple Pencil or similar stylus Procreate App version 3 & 4 (found on the Apple App store)
--
Zip file with Procreate brush and a PDF document with instructions on how to install brushes on your iPad. Still having issues? Troubleshoot with this article that explains it all: https://tinyurl.com/m7rdem6
Support: If you experience any problems not found within these instructions, please reach out to me and I'll be happy to help!
Suggested brushes:
1.
Hewitt Avenue Calligraphy
- the perfect basic modern calligraphy and lettering brush. It has a smooth texture and the perfect variation between thick and thin lines with pressure making it the ideal brush for images that will be turned into vectors.
2.
Monoline
- smooth, stiff, and no variation with pressure. You can, however, easily adjust the size of the brush to a wide variety of weights without losing the stiffness or unique quality.
OR
1.
Pack of 10 Brushes
Please Read:
Want to try before you buy? G
et your FREE Lettering Resources here.
Please note that these are digital files only. No physical product will be delivered. For easy installation, follow the installation guide provided. Happy lettering!
For behind the scenes details and sales, follow @hewittavenue on Instagram: #hewittavenuecalligraphy and #obsessedwithletters so we can cheer each other on!