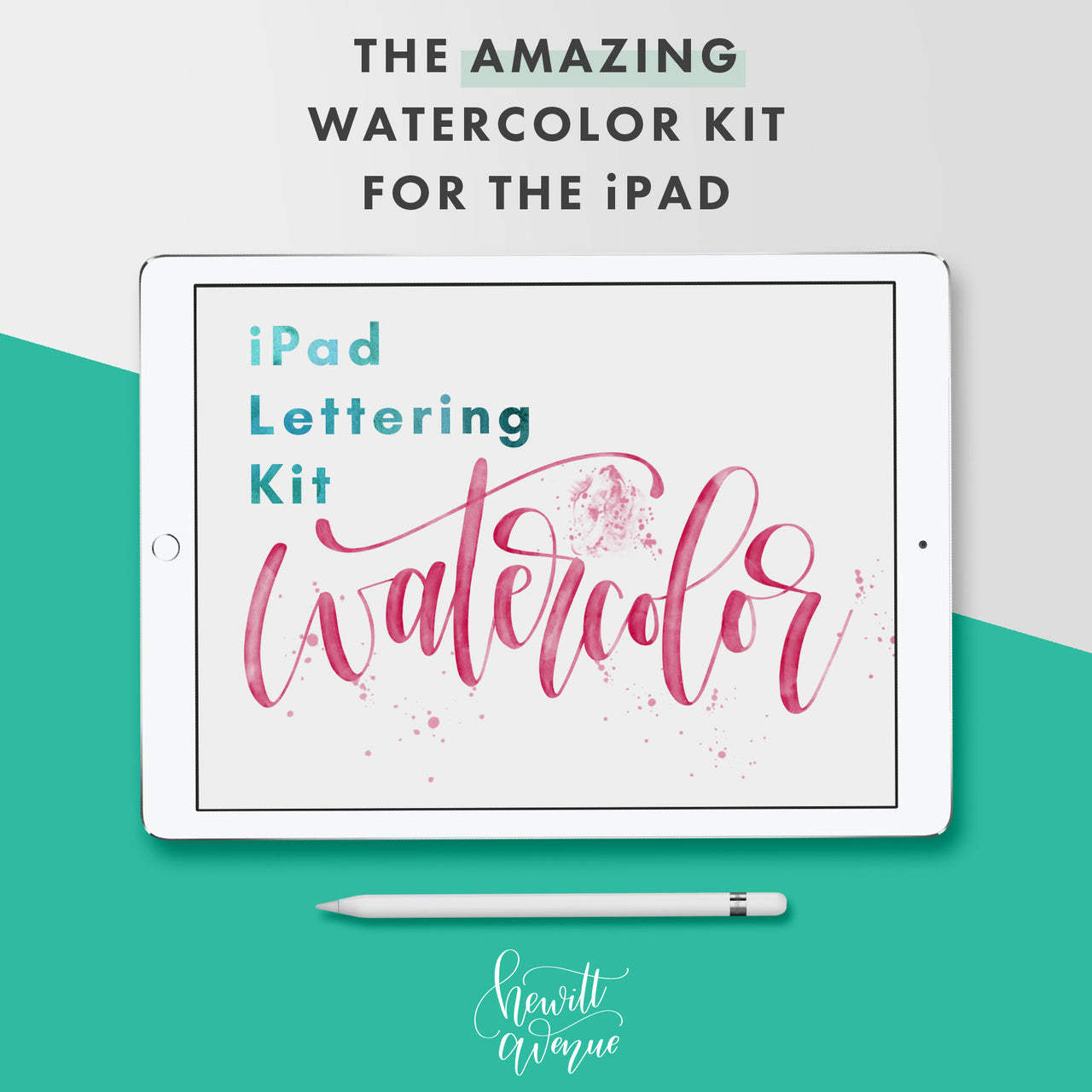 Create watercolor on your iPad! 
Do you see other watercolor posts on Instagram and wonder how to create that look?
Are you in a lettering rut and want to learn something new?
Do you want to learn how to export high resolution art from your iPad?
Are you already watercolor-obsessed with your iPad and NEED more sophisticated brushes?
Then this kit was made for YOU.
Included:
--88 brushes TOTAL:
39 x brushes (lettering, blending, smudging, splatter brushes)
18 x floral stamp brushes
x 4 color palettes
x 9 watercolor paper textures
x 1 iPad Watercolor E-Book
x1 Quick Reference Guide (1 page for easy reference)
Want to get this ENTIRE brushset and monthly tutorials? Join The Lettering Library - the iPad lettering membership! ***Hint: You get this entire brushset plus 100+ other brushes, color palettes, lettering guides, tutorials, for less than the regular cost of this brush kit!
Updates:
3/2019 update: 3 brand new brushes have been added (Magic Calligraphy, Magic Round, Magic Monoline), and one new color palette (HA iPad Watercolor 4).
11/2019 update: 14 new brushes added, HowTo Quick Reference Guide.
Details:
This is a BIG file (162MB) with loads of awesome resources. 
Zip file with Procreate brushes and a PDF document with instructions on how to install brushes on your iPad. Still having issues?
This listing is for our ENTIRE watercolor collection. If you'd like to try some of the brushes at a lower price, we recommend the starter pack!
Want to try before you buy? Get your FREE "Basic Round" custom brush here:https://tinyurl.com/m7rdem6
Please note: These brushes are only compatible with the Procreate App on the Apple iPads compatible with the Apple Pencil. They are NOT compatible with Adobe Illustrator or Photoshop. For easy installation, follow the installation guide provided. You will need the most up to date software on your iPad or at least iPadOS. Happy lettering!
For behind the scenes details and sales, follow @hewittavenue on Instagram: #hewittavenuecalligraphy and #ipadwatercolor so we can cheer each other on!