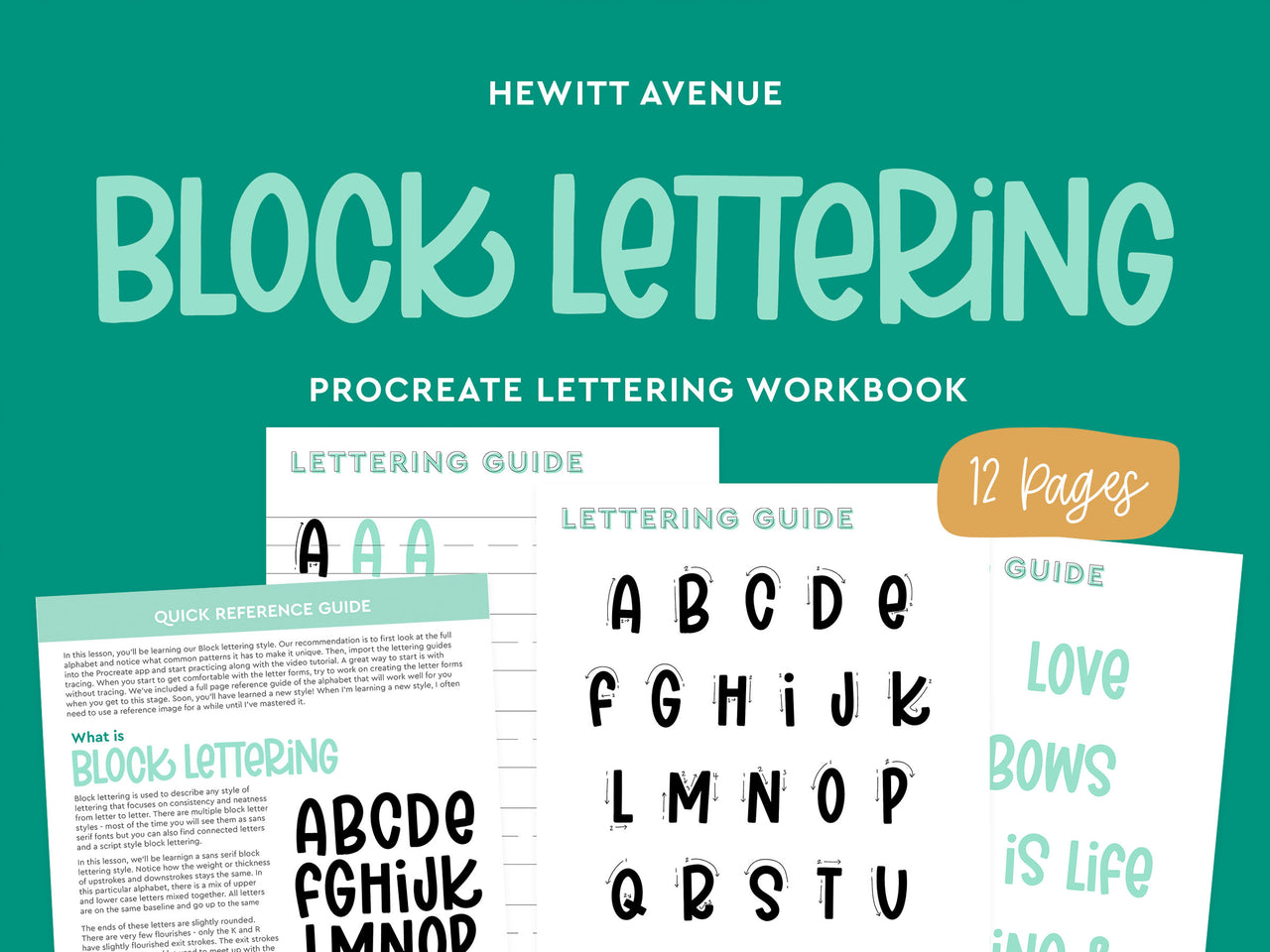 Learn lettering and calligraphy with Sarah from Hewitt Avenue! This lettering guide is perfect for the beginner iPad letterer.

Are you looking for more guidance and one-on-one instruction for lettering and calligraphy on your iPad? Head to The Lettering Library (the iPad lettering membership designed to take beginners to experienced letterers). LEARN MORE HERE

With your purchase, you get the block lettering guides PLUS the Procreate file with all lettering guides loaded and ready for practice:
1. The Hewitt Avenue Block Lettering Guide (both JPEG and PDF files)
2. Procreate File with the Quick Reference guide on this style of lettering PLUS all lettering guide pages (see video)

Please read all the way through before purchasing. Happy lettering, my friends! This eBook lettering guide can be imported to the Procreate App for iPad Pro lettering practice OR printed out at home. The attached download can be downloaded within minutes of purchase.

::::::Lettering Guide Details::::::
This eBook lettering guide features the block lettering style (mix of both upper and lowercase letters in the same alphabet) including arrows on how to form your letters focusing on one letter at a time.

Included you get:
12 Pages Total
1 Cover Page
1 Quick Reference Guide
1 Full Alphabet in Black
1 Full Alphabet in Teal (perfect for lettering over)
5 Pages with one lowercase letter per line
1 Page with numbers and special characters
1 Page with practice lettering words
1 Blank Lettering Guide

:::::: File types ::::::
Procreate File
PDF files
JPEG files

Suggested brushes:
1. Block Lettering Brushset - the companion to the Block Lettering Guide.

--

Requirements for iPad Lettering:

Apple iPad, iPadOS, Apple Pencil or similar stylus Procreate App (found on the Apple App store)
Requirements for regular/traditional lettering:
You can print your guides at home! You can use any brush, but my favorites are Tombow Brand.