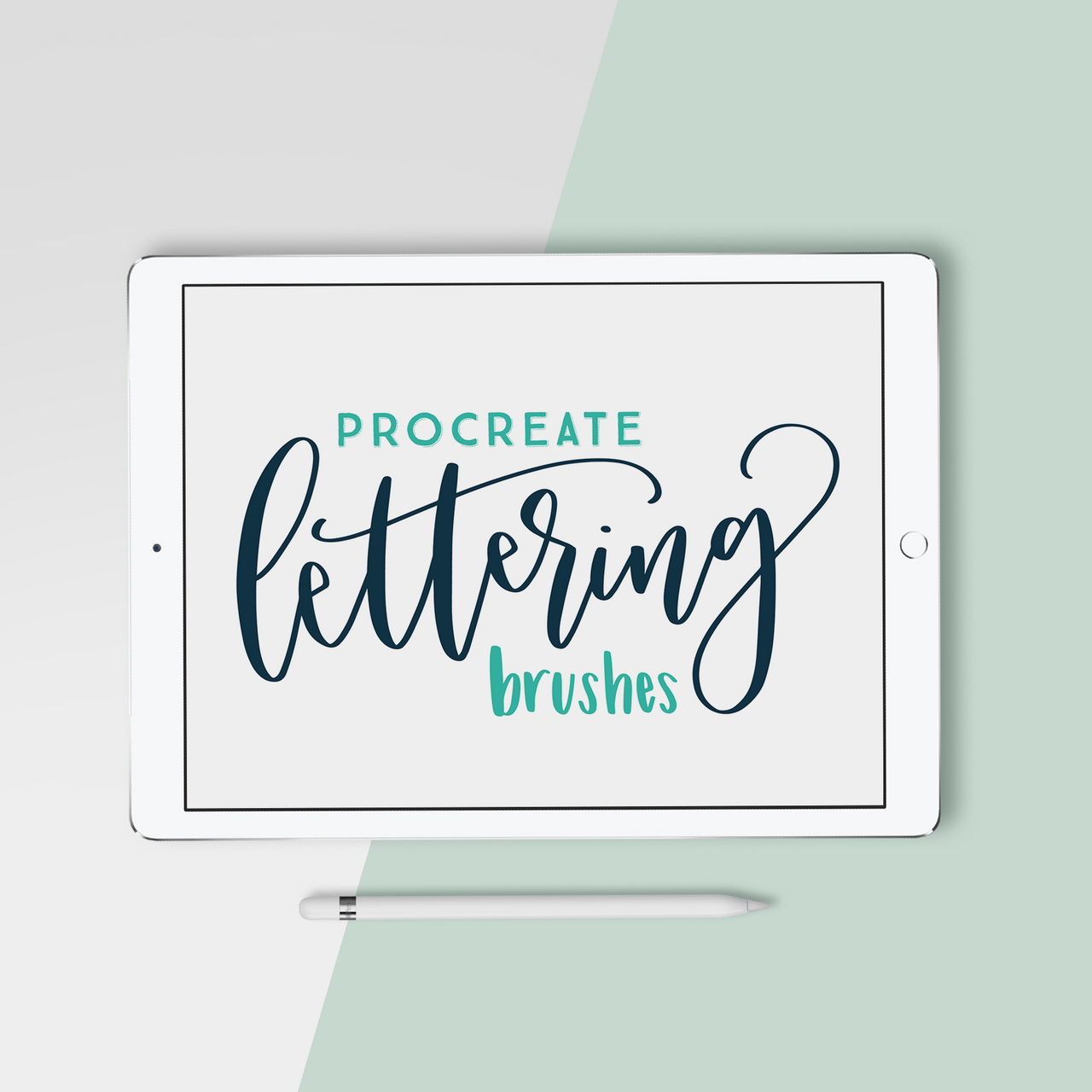 Lettering obsessed on your iPad Pro? You've found the right place!
 This pack of TEN brushes are for the Procreate App on the iPad Pro and have been updated to reflect the newest Procreate App features. This is an update of the original Hewitt Avenue pack of EIGHT brushes.
1. Ink Bleed Calligraphy
mimics more traditional calligraphy nibs and ink on paper with lots of texture.
2. Thin Calligraphy
smooth texture and less variation between thick and thin lines with pressure than the Thick Calligraphy brush - mimics more traditional calligraphy nibs but maintains a very smooth finish.
3. Thick Calligraphy
a very large variation in thickness with change in pressure and mimics favorite calligraphy nibs and pens.
4. Dry Brush
created for the letterer looking for a fun and unique brush to add to their collection. It has LOADS of texture.
5. Monoline
smooth, stiff, and no variation with pressure. You can, however, easily adjust the size of the brush to a wide variety of weights without losing the stiffness or unique quality.
6. Sketch
a new addition to the brush pack. Sketch is beautiful on it's own or perfect for mapping out your lettering piece before inking it with one of the calligraphy brushes. Its texture is like the softest sketching pencil and gives you a large variation between thick and thin strokes with pressure.
7. Watercolor Smooth
 watercolor brush that's perfect for modern calligraphy. It's easy to write with and very forgiving making it an ideal brush for the newbie iPad Pro letterer wanting to branch into watercolor.
8. Watercolor Brush
an updated of our original watercolor brush. It has a drier texture than the "Watercolor Smooth" brush.
9. Powder
a versatile chalk brush. This brush has more texture, more powder, and more scratchy-ness (is this a word?!) and is oh-so-satisfying to use.
10. Hewitt Avenue Calligraphy
the perfect basic modern calligraphy and lettering brush. It has a smooth texture and the perfect variation between thick and thin lines with pressure making it the ideal brush for images that will be turned into vectors.
Included:
Zip file with Procreate brush and a PDF document with instructions on how to install brushes on your iPad. Still having issues? Troubleshoot with this article that explains it all: https://tinyurl.com/m7rdem6
Want to try before you buy? Get your FREE "Basic Round" custom brush here:https://tinyurl.com/m7rdem6
Please note: These brushes are only compatible with the Procreate App on the Apple iPad Pro. They are NOT currently compatible with Adobe Illustrator or Photoshop. For easy installation, follow the installation guide provided. You will need to open the Zip file on a desktop computer first OR download a third party app on your iPad to open zip files. Happy lettering!
For behind the scenes details and sales, follow @hewittavenue on Instagram: #hewittavenuecalligraphy and #obsessedwithletters so we can cheer each other on!